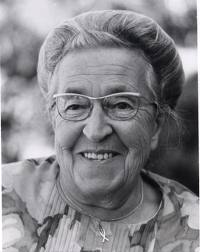 Cornelia "Corrie" ten Boom was a Dutch Christian, who with her father and other family members helped many Jews escape the Nazi Holocaust during World War II. Her family was arrested due to an informant in 1944, and her father died 10 days later at Scheveningen prison. A sister, brother and nephew were released, but Corrie ten Boom and her sister Betsie were sent to Ravensbruck concentration camp, where Betsie died. Corrie wrote many books and spoke frequently in the post-war years about her experiences. She also aided Holocaust survivors in the Netherlands.
Someone once asked her how she could possibly handle all the compliments and praise that were constantly heaped upon her, without becoming proud. She said she looked at each compliment as a beautiful long-stemmed flower given to her. She smelled it for a moment and then put it into a vase with the others. Each night, just before retiring, she took the beautiful bouquet and handed it over to God saying, "Thank you, Lord, for letting me smell the flowers; they all belong to you." She had discovered the secret to genuine humility. She had learned what it meant to love and live like Jesus.
Philippians 2:1-8 is a primer for living a humble life.
Verses 1 and 2: "If you have any encouragement from being united with Christ, if any comfort from his love, if any fellowship with the Spirit, if any tenderness and compassion, then make my joy complete by being like-minded, having the same love, being one in spirit and purpose."
So what can we learn about humility from this passage? First, humility starts with counting our blessings as a follower of Christ. They include encouragement, comfort, Christ's love, the indwelling Holy Spirit, and compassion. We need to remember that we have all these things because of God's grace. We didn't deserve or earn them. God graciously gave them to us. That should help keep us humble.
Verses 3 and 4: "Do nothing out of selfish ambition or vain conceit, but in humility consider others better than yourselves. Each of you should look not only to your own interests, but also to the interests of others."
Second, we learn that humility requires being a "me third" kind of person. Our natural impulse as human beings is to consider our own interests first, and the interests of all others somewhere down the line. Humility requires that we relegate our own interests to the back of the line; God first, others second, and ourselves third.
Verses 5-8: "Your attitude should be the same as that of Christ Jesus: Who, being in very nature God, did not consider equality with God something to be grasped, but made himself nothing, taking the very nature of a servant, being made in human likeness. And being found in appearance as a man, he humbled himself and became obedient to death—even death on a cross!"
Third, we learn that humility requires surrendering what is rightfully ours. There seems to be an epidemic in our society when it comes to an attitude of entitlement. Jesus' attitude was the opposite extreme of an attitude of entitlement. Though he was in his very nature God, the creator, He became a man, and even lower than that, he became a servant. Then he took the ultimate step and submitted to being crucified as a common criminal.
Being humble isn't an option for us if we want to be Christ like. It must be a way of life. It is what Christ was being when He gave his life to save our lives.

Jesus came to serve, not to be served.
Practice humility and you won't be humiliated.