Parent Resources
Information for Parents whose children are attending summer camp

Transportation
Parents may choose to take their children to camp. Alternatively transportation will be provided to camp with our chartered buses from our Winnipeg and Steinbach depots at no extra charge. It is important that parents register for transportation on the camper registration. Campers should be at the Winnipeg or Steinbach Depot at 9:00 AM. The buses depart for camp at 9:30 AM.
Steinbach Depot: Emmanuel Evangelical Free Church 360 Mackenzie Ave- Door #1 East in Parking Lot.
Winnipeg Depot: Braeside EMC Church, 1011 Munroe Ave., East Kildonan
Please NOTE that we do NOT provide return transportation. All Campers need to picked up by their parent/guardian or other individual specified on the camper registration. Please Arrive between 10:30am and 11:15am
Summer Camp Pictures
We upload our pictures to SMUGMUG, and almost all of our albums are password protected for the privacy and safety of our guests. To obtain password, please contact our camp manager.
Parent's Day Schedule
(always Saturday, the last day of camp): Please do not plan to arrive at camp until 10:30 AM.
10:30 A.M: Meet your children and their Counselors
11:15 A.M: Parent's Program
12:00 P.M: Barbecue
12:45 P.M: Departure
What to Pack for Camp
Click here for the Camper Packing List.
At the end of summer, there is always a pile of campers belongings left at camp. This is an expensive waste for our campers (and their parents!) As a way to target the problem of lost belongings and a large lost and found closet, we are encouraging our campers to label all belongings.
We look forward to sending campers home with ALL their belongings this summer!
Phone Calls
We ask you to limit phone calls to your child to absolute necessities. A birthday call is always appropriate on a child's birthday. Check the schedule and call at a meal or snack time. Normal office hours for our Steinbach office are 9:00am to 4:00pm Monday-Thursday. The Steinbach office is closed on Fridays. Messages left after 4:00 PM on Thursday will not be returned until Monday.
Camp Site: 204-348-7267
Steinbach Office: 204-326-9784
Send a Message to your camper
We encourage parents to send one way email to their camper during their week of summer camp. Emails are given out at Supper Time each day. Emails received after 4:00pm on Friday will be not be given to campers. Please include your child's name in the subject line.

Health and Safety
We take the care of our campers very seriously, while still leaving room for fun and opportunities for Growth. Here are a few key points about Health and Safety
We have a registered nurse on site at all times during summer camp
We have a fully stocked infirmary to treat most common injuries at camp
Several Staff have Standard First Aid.
For food allergies our kitchen has experience working with all kinds of food allergies and equipped and trained to handle food safely.
Our staff encourage the campers to use hand sanitizers and to wash hands at all meals to help with the spread of germs
We hire National Lifeguard Society trained lifeguards to oversee our waterfront area
Our staff are trained in spotting, managing and minimizing risks so that the activities are safe and enjoyable for all
Bible Memory Program
Since camp began, campers have had the opportunity to memorize Bible Verses to help reduce the cost of camp.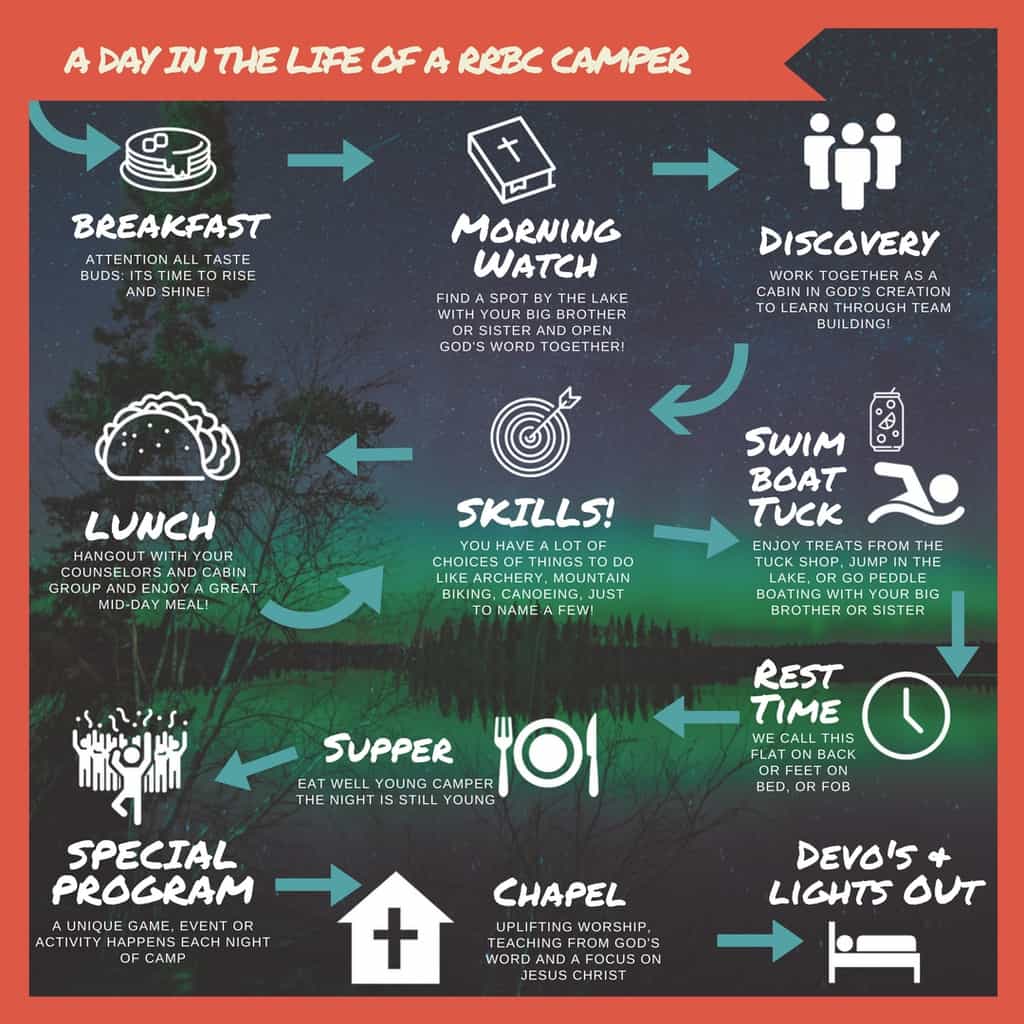 Do you have questions? Contact us